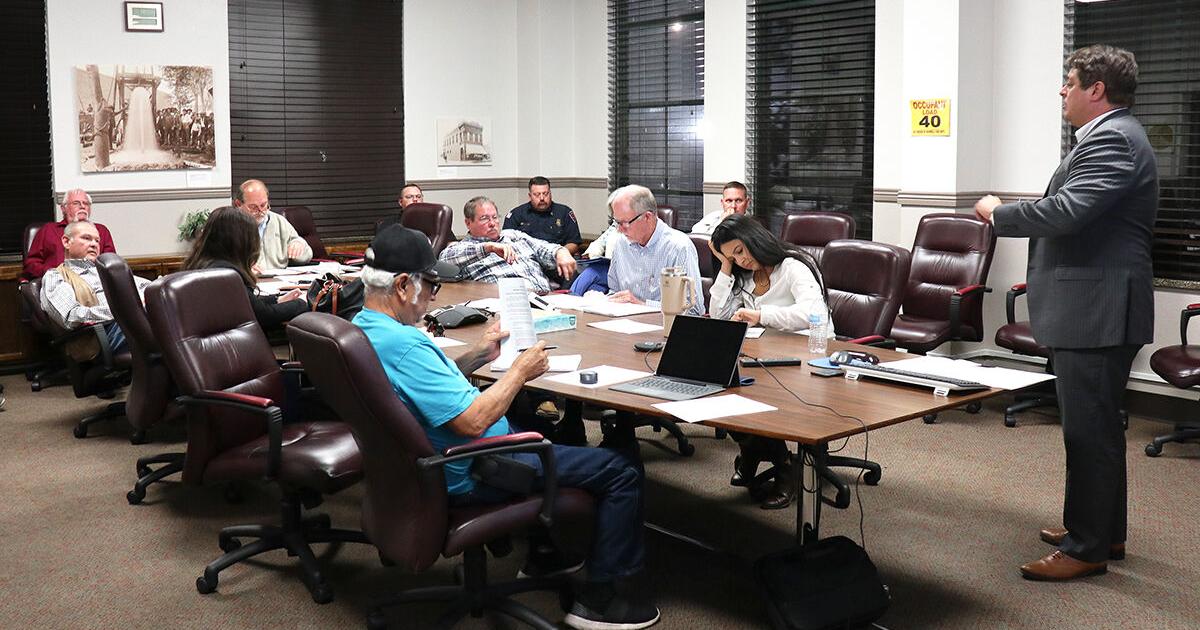 Workforce housing proposed on municipal land |
Members of the Roswell City Council Legal Committee heard about a proposal that would add 70 additional units of workforce rental housing to the city during their meeting on Thursday.
Stephen Crozier, founder and CEO of Tierra Realty Trust in Santa Fe, proposed the use of vacant city-owned land at 500 S. Richardson Ave. for 45 units. The Yucca Leisure Center was located on this site until its demolition in 2018.
The remaining 25 units would be on East and West Alameda streets that Crozier said he has available for such use.
All of these units are referred to as "Alameda Flats". These units would make up a total of 72,000 gross square feet.
The plans for the two local sites would be to use simple materials that would be easy to maintain. The design would be modern and "promote privacy, security, connection to the outdoors, and residents' sense of community", while creating "a strong street presence", the written project proposal stated.
It would take about 2.5 to 3 years to build the unit and get it ready for tenants to start moving in, Crozier said.
For this development, tenants would earn no more than 60% of the Chaves County Area Median Gross Income (AGMI). The median income of people residing in the county, as of 2020, is $46,254 and 60% of that amount is around $27,750, according to the US Census Bureau.
Some potential tenants could qualify for units while earning 30% AGMI. Other tenants should earn 50% or 60% of the AGMI.
About 25% of the dwellings would be intended for use by families.
Starting monthly rents would range from $650 to $850.
The rents paid for these units would remain limited for 40 years, Crozier pointed out.
Crozier's company was involved in a series of other construction projects. Several of these involved the use of public property or public funds and are considered affordable housing, such as Playa Escondida in Hobbs and Hotel Clovis in Clovis. The Clovis project involved renovating the hotel – a National Register of Historic Places site – into approximately 31 lofts as well as 29 new units.
In Roswell, the city-owned site on Richardson Avenue has not been sold or given to anyone at this point, according to the city.
However, Mayor Timothy Jennings said on Thursday that the owner of a business near the South Richardson site had also expressed interest in developing that property.
City staff later said Bruce Gwartney of J&G Electric, which is located in the 500 block of South Main Street, is the other interested party.
After committee members heard about Crozier's plan and discovered that someone else was monitoring the site, it was decided to hold a public meeting. Scheduled for 6 p.m. Nov. 7 at the Roswell Convention Center, city officials will listen to public opinions regarding the use of city property.
Members of the legal committee will hear information about site plans from Crozier, who made a presentation to the committee on Thursday, and J&G Electric at their Nov. 10 meeting.
Crozier explained that in order for him to meet the mid-January deadline, city councilors would need to approve a resolution for the land donation to Crozier by November 21 so that he can meet the deadline of the mid-January to apply for funding from New Mexico. Finance Authority.
He described the funding source as "very competitive".
The estimated cost to complete Alameda Flats is more than $17.5 million, Crozier also told committee members.
Sites associated with the Alameda Flats are zoned R-3 residential.
Another item on the committee's agenda was seeking board approval to approve the request for proposals for a strategic plan for Roswell Air Center.
Two other points dealt with potential changes in the city's administrative code regarding the powers of those in managerial positions, such as the city manager and city clerk, as well as changes in the resolutions that created the Roswell Airport Authority. Commission (RAAC) that would clarify the procedures and what topics they will cover, said city prosecutor Hess Yntema.
A possible future joint powers agreement between Roswell and Chaves County for the airport would likely mean that those actions — if ultimately approved — would become moot.
Work will continue on amending Chapter 2 of the city code regarding city appointees, officers, and department directors, while proposed amendments for RAAC resolutions will be submitted to the Roswell City Council.
These revisions to the code and resolutions were launched in early September, shortly after Yntema began working as a city attorney.
Other elements of the airport included the authorization of an airport operations lease with Aersale, Inc., a lease with Ascent Aviation for the use of airport building No. 117, a lease with Clean Up Enterprises for Airport Building No. 67 and a lease with J&S Mechanical for Airport Building No. 61.
An article that would have set a public hearing on a draft ordinance that would regulate massage establishments has been postponed.
Reporter Terri Harber can be reached at 575-622-7710, ext. 308 or [email protected].