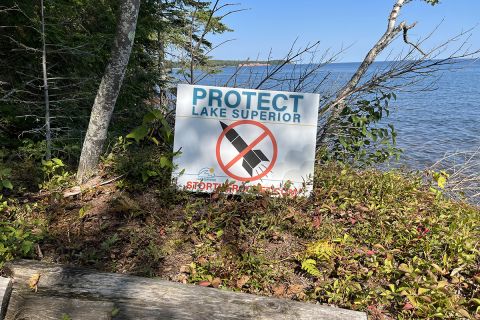 Michigan spent $2.5 million to be a rocket hub. Critics say it only produced hype
"It's truly remarkable that someone is considering putting a heavy industrial facility [like a launch pad] on the coastline of the largest body of fresh water in the world," said Dennis Ferraro, who lives about 3 miles from the selected site and leads the opposition group Citizens for a Safe & Clean Lake Superior.
"It's just a horrible idea. Ecologically, it is a disaster.
In Chippewa County, officials were thrilled after the Michigan Launch Initiative selected the base as its command site in January 2021. However, Brown's group has yet to file the necessary permits with the Federal Aviation Administration to the project.
"I think everyone turned around, like we did, and said, 'What have we won?
"There is no structure there. There is no money for that.
At Oscoda, airport officials are restless and awaiting answers after Brown's group suggested the former Air Force base as a site in 2020.
Airport board member Kevin Boyat said he still remains hopeful, but officials can't get answers from Brown.
The board sent a letter months ago, he said, giving Brown 45 days to respond. He heard nothing back, Boyat said.
"It's like ordering a new car and waiting six years [for it]," he said. "When you ordered it, you were excited."
"It took so long and we can't get any information from Gavin," Boyat said.
Brown said he has complied with all state requests for information and remains confident about the state's space outlook. He also played down environmental concerns, saying any vertical launch at Marquette would use "green energy," some of which has yet to be developed.
But he also said no final decision has been made on when to apply for a spaceport license from the Federal Aviation Administration. This will come after a final decision as to whether it makes economic sense to proceed.
"It will start when it makes sense to start," said Brown, who is also executive director of the Michigan Aerospace Manufacturers Association, which is an integral part of the space project.
Like all non-profit organizations, it is required to make tax returns public, upon request. A Bridge search of publicly available records shows that only his 2010, 2011 and 2019 are currently available.
Bridge asked Brown and his accountant for copies of other tax returns on several occasions. Brown said he would provide them, including again in a midday email on Wednesday, September 14. At the time of publication, they were not provided by the publication.
Existing tax records show that 88% of his total revenue of $1.5 million in 2019 came from state grants.
"There was something wrong"
The turmoil comes amid what is otherwise an exciting time for space exploration.
With NASA poised to return to the moon and the space industry approaching $500 billion last year, Michigan is entering the race to become a hub for low Earth orbit launches.
It has an inherent advantage due to its location, more than halfway up the North Pole from the equator, which allows launches into "polar" orbits coveted by some commercial satellite companies.
Lawmakers funded the space effort through the belated approval of a budget that provided money for former Gov. Snyder's pet projects in the final days of his administration.
Governor Gretchen Whitmer initially refused to honor funding for the space effort, citing a lack of details.
But after lawmakers agreed to the changes, his administration funded the project, and the quasi-government Michigan Economic Development Corp. oversaw the grant to "assess the feasibility of a low orbit launch site in Michigan".
The Michigan Launch Initiative was scheduled to complete work in January 2021 but received two extensions. At the same time, its grant increased from $2 million to nearly $2.5 million.
The grant surprised Kirk Profit, a former lawmaker turned lobbyist.
He said the funds were raised shortly after Brown requested a $2 million investment from Kalitta Air to fly rockets into the stratosphere in its cargo planes at Willow Run and Oscoda airports.
Profit was Kalitta Air's lobbyist at the time and said he and the company could find little on Brown's background.
"We checked it. We finally shelved it," Profit said recently. "There was something wrong."
Conflicting studies
Michigan is forging ahead, though some critics say the state is lagging far behind others in the race to build infrastructure for the booming space industry.
One of the primary sources of criticism from critics is a report commissioned by Brown's group.
The IQM Research Institute article noted that since Brown floated the idea of ​​the Michigan launches, the economics of the commercial space industry have changed dramatically.
The report, written by former Air Force Brigadier General Michael Dudzik, who commanded all of the branch's space forces, said the cost of placing satellites in space was dropping dramatically from $7,000 a pound to less than $1,000. And a few big players – including Elon Musk's SpaceX – dominated the market.
More than a dozen spaceports in 10 states have received FAA licenses in recent years, and most have not staged a single launch.
In its 2021 report, IQM reported that there had been just 16 polar-orbiting launches — like the ones Michigan could host — at three U.S. spaceports in the previous three years.
In fact, with other locations dominating the market, IQM's report concluded that so few new businesses would surround the launch sites that even if there was one launch per week, "annual revenue generated… would have the same revenue impact in the state equal to the annual revenue of two additional fast food chains.
"He was just selling the concept, but he was separated from the fundamental facts," Dudzik told Bridge.
Brown criticized the finding during an interview with Bridge, saying it unfairly characterized the value of the food and beverage industry.
Dudzik's report went "beyond the scope" of what it was asked to investigate, he added.
"No business case has been made," he said.
Brown's nonprofit's website, however, includes a study that explores the "commercial dosage" for launches.
The four-page study from August 2021 concludes that the sites could attract 30 aerospace companies and deliver $13.2 billion in economic impact over the next 10 years, a "potential return of 40 times the investment in terms of economic impact for the State of Michigan".
The reasons for optimism
Even with the turmoil, many remain optimistic that Michigan could capitalize on the space industry.
The IQM report concluded that Michigan could still benefit without committing tens or hundreds of millions of dollars to launch facilities, as has happened in other states, including New Mexico, Colorado and Georgia.
Michigan has great advantages, with or without launch sites, said Greg Autry, director of the Thunderbird Initiative for Space Leadership, Policy and Business at Arizona State University.
He said Michigan's manufacturing heritage makes it uniquely positioned to build rockets and their components. But focusing on launch sites before identifying a rocket builder is "kind of putting the chicken before the egg," he added.
Michigan's space efforts are "half-hearted," Autry said, because they lack vigorous collaboration between government and the private sector.
The Colorado Space Coalition includes state government leaders as well as representatives from academia and the private sector. Although its launch site was not used, the coalition is actively working to develop the state's aerospace industry.
If Michigan adopted Colorado's model and got everyone around the table, "you'd move Colorado in the blink of an eye," Autry said.