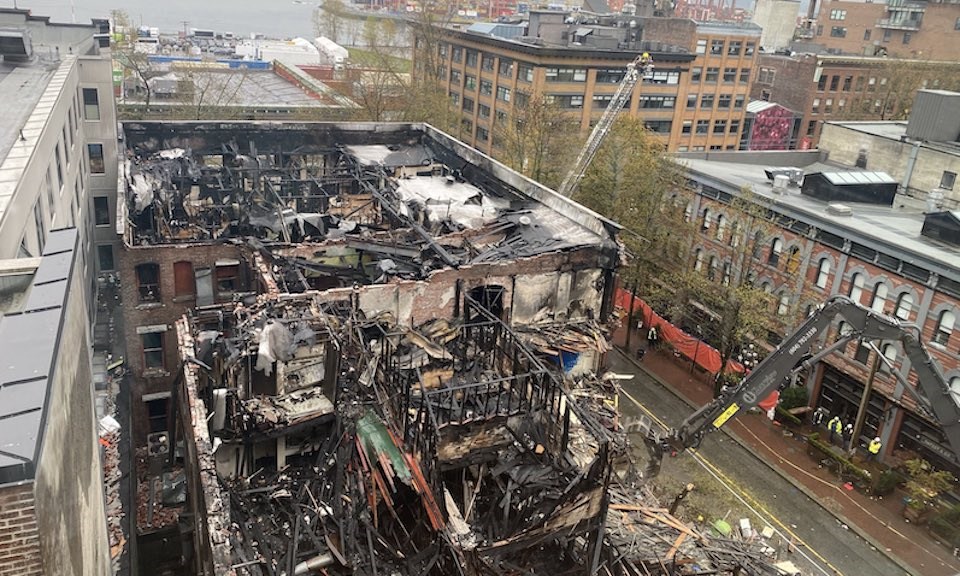 Is fire safety taken seriously in Vancouver ORS buildings?
"It's also commonplace when the fire alarm goes off, people don't come out of their rooms," says a former SRO employee.
A massive fire that destroyed a historic building in Gastown has raised concerns about the safety of single occupancy residences (SROs) in Vancouver.
More than 140 residents of Gastown ORS have been displaced after a four-alarm fire broke out in a tenant's room on the second floor of a four-story building on April 11. The upper levels were used as an SRO called Winters Hotel, managed by Atira Women's Resource Society. After demolition began, two bodies were found in the rubble, officials confirmed on April 22.
The fire was ruled accidental and likely started by unattended candles in a second-floor unit, according to the Vancouver Fire and Rescue Services (VFRS) preliminary investigation. The findings of the preliminary investigation were made public on April 21.
Winters Hotel employee Rhonda Bright spoke to Vancouver is great at the scene of the fire and said there were three employees in the office when they heard someone shout "fire".
"Because we just had a fire on Friday night, we didn't take it seriously," the staff member added.
VFRS confirmed responding to a fire at the premises on April 8.
According to another Winters resident named Nicole, there was no alarm when the fire broke out on April 11. She was able to get her own pets, a cat and a rat, safely out of the building, but added that "if we had taken longer, I don't know if we would have made it."
"It's also commonplace when the fire alarm goes off, people don't leave their rooms."
A former Atira Property Management employee, whom we will call Jane, contacted VIA after hearing about the fire. She said fires were not uncommon in the buildings she worked in and as a result residents and staff did not take them seriously. His name has been changed to protect his privacy.
"It's also commonplace when the fire alarm goes off, people don't come out of their rooms," she said in a phone interview, adding that many residents smoked cigarettes and consumed pot. drugs in their room.
While there was a "no smoking" policy, Jane says the rule was not enforced. Furthermore, she alleges that she was "treated like an outcast" for continuing to raise concerns about fire safety.
Many residents of Atira-run SRO buildings are also hoarders, she added, and their "rooms are jam-packed" with all sorts of stuff.
"I've seen it where people fell asleep with cigarettes, or they left a cigarette."
Atira buildings have policies to prevent employees from working alone, but the former front desk worker noted that she often worked alone, even late at night. "I received death threats…I was spat on," she said.
Janice Abbott, CEO of Atira Women's Resource Society and Atira Property Management, told VIA that working in an SRO is difficult for several reasons.
"Working in ORS isn't for everyone. It's not an apartment building in Vancouver's West End. About 81% of our tenants use it," she explained.
"Many of these tenants also have mental health issues. For many people this is housing of last resort."
Finding Affordable Housing in Vancouver's Downtown Eastside
Atira operates 23 SROs in the city and has safety measures in place, but "small fires and flooding are not unusual," Abbott said.
As reported by tenant Nicole and confirmed by VFRS, there was a small fire at the Winters Hotel on April 8th and the sprinklers were activated. A licensed technician is needed to reset the sprinkler system and Atira was on "fire watch" until they arrived at the building.
The fire was first detected by custodial personnel carrying out fire watch, according to the VRFS. "They tried to put out the fire but were unsuccessful. They quickly alerted the occupants of the building."
In addition to fires and floods, tenants and employees of Atira-managed SROs face other safety issues. Abbott spoke about the specific concerns raised by Jane.
When it comes to evicting a resident from a building, Atira management must weigh the behavior of the individual against the possibility of rendering them homeless. "Our first goal would be to try to work with this person to change their behavior," Abbott noted, adding that the company makes the decision to issue eviction notices on a case-by-case basis.
When it comes to smoking in buildings, Abbott said it's "always a challenge for the manager and always [have to consider] make someone homeless for smoking? »
In some cases, however, a tenant may receive a letter under the Residential Tenancies Act stating that "they have breached the terms of the tenancy agreement and then go to a hearing at the RTA".
In those cases, management would "provide a violation letter, ask the tenant to change their behavior — whatever behavior is causing the problem," Abbott explained. "And then at some point, [management would] make the decision to issue an eviction notice and usually the tenant appeals and then you wait for a hearing and you have to go to a referee and the referee decides if you have an eviction case. »
As for employees working alone, Abbott said Atira has a policy against people working alone, but sometimes staff don't show up for their shifts. In those cases, management tries to find someone to replace them, but that's not always possible, Abbott acknowledged.
"We are trying to find someone [to fill in] but staff sometimes work alone, but there are procedures for working alone for those occasions."
Abbott pointed out that following the Winters Hotel fire "the loss of so many rooms at once is devastating" because it means people on the street will have to wait longer for accommodation.
In the summer of 2021, another Atira-managed property, the 93-unit St. Helen's Hotel at 1161 Granville St, had 80 city violations; 46 were considered "life safety issues" which primarily consisted of missing or faulty smoke detectors and automatic door closers. Obstacles to emergency exits were also identified.
Similar to the Winters Hotel, the St. Helen's Hotel was built over 100 years ago and requires frequent maintenance.
The city maintains a public web page listing all buildings with maintenance, health, or safety issues. Currently, this includes several SRO operators, including Atira. Problem records older than one year are not immediately available.
With files by Mike Howell