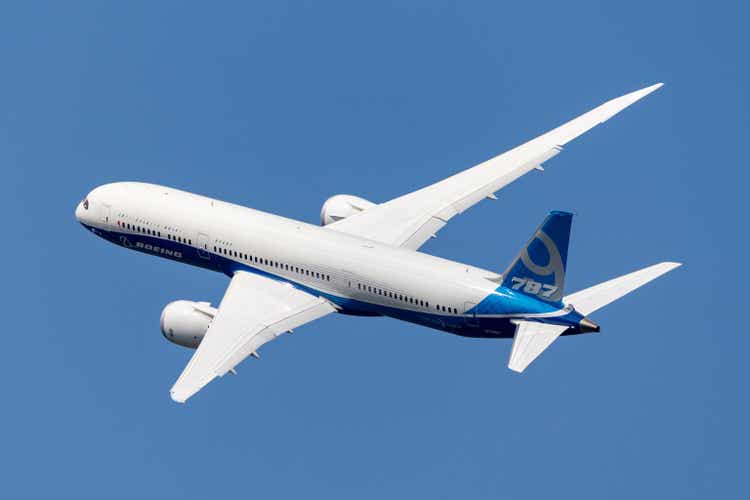 Increase in Boeing Wide Body orders (NYSE: BA)
While Boeing (NYSE: BA) does not quite meet expectations for single lane deliveries. I remain optimistic about their recovery trajectory. More importantly, this is driven by the return of the Boeing 787 to the delivery mix, which is priced around three times higher than a single-aisle jet. In this report, I will review orders, deliveries and other changes in Boeing's order book in September.
For this report, I will be using the evoX Order and Delivery Monitor developed by The Aerospace Forum. For those who have been following the monthly order and delivery reports I write for Airbus and Boeing, you might notice that this monitor is completely different. So I wanted to briefly introduce this new product which I will occasionally use as a backbone for investor updates. Over time, our data analysis capabilities have grown significantly. With that comes new ideas on how to do things better. As a result, I launched evoX, which combines front-end efforts and back-end improvements to improve our data analysis tools.
The evoX platform introduces a whole new look to interactive monitors, but it doesn't stop there. We have consolidated various monitors and pages into one, making more data accessible with one tool and from the same data we present more information to you. Thus, we better leverage the hundreds of thousands of data points we have obtained, which allows us to better highlight the data-driven approach of the analysis.
As before, using these tools we are able to analyze orders and deliveries and see where manufacturers are falling short, meeting or exceeding expectations.
Boeing orders climb
In September, Boeing booked 96 orders worth $9.7 billion, including 51 single-aisle jets and 45 widebody jets, marking a sequential increase of 66 orders:
BBAM Aircraft Management has ordered 2 Boeing 737 MAX.
Fifteen Boeing 767-2Cs, base aircraft of the KC-46A, have been ordered.
China Airlines has ordered 16 Boeing 787-9s.
An unidentified customer has ordered 7 Boeing 737 MAX.
An unidentified customer has ordered 2 Boeing 777Fs.
An unidentified customer has ordered 12 Boeing 777Xs.
WestJet has ordered 42 Boeing 737 MAXs.
During the month, the following changes were made to the backlog:
Air China has been identified as a customer for 5 Boeing 777Fs.
All Nippon Airways has been identified as the customer for 1 Boeing 787-9.
A/S Maersk Aviation Holding has been identified as a customer for 1 Boeing 767-300F.
CES Leasing Corporation has been identified as a customer for 1 Boeing 777F.
Aviation Capital Group has been identified as a customer of 12 Boeing 737 MAX.
Ethiopian Airlines Group has been identified as a customer of 5 Boeing 777Fs.
Five Boeing 787-8 orders previously listed under Boeing Capital Corporation have been transferred to American Airlines (AAL).
Alaska Air has canceled orders for 5 Boeing 737 MAXs.
An unidentified customer has canceled an order for 1 Boeing 787-9.
In terms of orders, September was a good month for Boeing. Boeing has booked a large order from WestJet for the MAX 10, which I have discussed in more detail in a separate report and there has been a flurry of widebody orders, including an order for the Dreamliner from China Airlines (Taiwan ) and an order for 12 Boeing 777X aircraft. Ten of those orders have now been awarded to Cargolux and it will be interesting to see who is the customer for the other two aircraft. There were also orders for Air Force tankers, meaning all significant widebody orders received orders, which is certainly not something that happens every month. What's also nice is that the orders were almost evenly split between single-aisle and widebody orders, and while it's too early to make any definitive statements, we might see the appetite for wide-body aircraft reborn.
In September, Boeing booked 96 gross orders, worth $9.7 billion, while it removed six orders worth $407 million from the books, bringing net orders to 90 orders. worth $9.3 billion. A year ago, the US aircraft manufacturer recorded 27 orders and 5 cancellations, bringing its net orders to 22 units with a net order value of $2.0 billion. So we see that the net inflow of orders has increased significantly.
Year-to-date, Boeing has recorded 542 gross orders and 114 cancellations, bringing net orders to 428 units with a net order value of $32.2 billion. In the first nine months of 2021, Boeing recorded 710 gross orders and 302 net orders with a net worth of $24.4 billion. So gross orders have tended to be lower year-over-year, but net order value is more positive, and the improved mix is ​​giving Boeing year-over-year growth in order value.
Boeing has also updated its ASC606 adjustment tally, which is a tally in which Boeing groups orders that have a purchase agreement but also several other checkboxes that must be checked in order to count aircraft orders or not. in the order book. During the month, we saw the count increase as 49 737 MAX aircraft were added and three Dreamliners were removed from the count. Although the name of the customer is not disclosed by Boeing, I expect the 737 MAX additions to the tally to come from Akasa Air and Aerolineas Argentinas. Akasa Air may be more inclined to lease planes than to buy directly at this stage and it is highly likely that the order for seven aircraft will compensate for a possible cancellation by the Argentine carrier.
If all of the ASC 606 adjustments result in cancellations, which is certainly not always the case, Boeing would have to strike an additional 882 planes off its books.
Pickup of Boeing deliveries
In September, Boeing delivered 51 aircraft compared to 35 the previous month. The jetmaker delivered 37 single-aisle jets and 14 jumbo jets with a combined value of $3.9 billion:
A total of 37 Boeing 737s have been delivered, including one Boeing P-8A and 36 Boeing 737 MAXs.
Boeing has delivered five Boeing 767 family aircraft consisting of one Boeing 767-2C and four Boeing 767-300Fs.
Boeing has delivered two Boeing 777Fs.
Boeing has delivered seven Boeing 787s; three -8s, two -9s and two -10s.
In September, deliveries rose to 51 units from 35 a month earlier. Delivery numbers were in line with June numbers but with a more attractive mix as the Boeing 787 is back in the game. Additionally, we found that MAX deliveries exceeded the production rate, indicating that inventory has decreased in September. However, it should also be noted that in the last month of the quarter, deliveries tend to be higher to meet quarterly targets or release as many aircraft as possible and this is not necessarily an indication of a sustained inventory reduction. In previous months, I haven't been impressed with Boeing's delivery numbers, but this month is different. We have seen the Boeing 737 MAX and the Boeing 787 perform well in terms of deliveries.
Compared to last year, shipments increased by 16 units while the value of shipments increased by $1.3 billion, reflecting a better shipment mix. Year-to-date, Boeing has delivered 328 planes worth $22.1 billion, up from 241 planes worth $18.5 billion last year. Year-to-date figures show Boeing deliveries are significantly higher, thanks to the Boeing 737 MAX program. Boeing 787 totals have yet to catch up to last year, but this program will also be a positive factor in increasing revenue this year.
The order-to-bill ratio for the month was 1.9 on a unit basis and 2.5 on a dollar value basis. For the first nine months of the year, the gross ratio of orders to invoices is 1.7 in terms of units and 1.8 in terms of value, while the cancellation rate is 21% and 2.4% compared to the order book. The book-to-bill ratio for the year looks extremely strong. This is due to a strong influx of orders, but also disappointing delivery figures due to supply chain issues. So, order-to-bill ratios above one show balanced or oversold positions in general, but in this case they also reflect big challenges in increasing production.
Conclusion: Boeing keeps its promises, now its share price must keep its promises
Boeing had a good month in terms of orders securing a large order from WestJet for the MAX and also securing widebody orders for passenger, freighter and base tanker aircraft. We could see the first signs here that the appetite for widebody orders is back and if so, the Boeing 787 is back just in time. However, it's also worth bearing in mind that when the Dreamliner stopped delivering, which attracted significant negative attention, airlines were unlikely to be willing to make headlines with orders for it. type, even if significant discounts could have been obtained at the time.
After being somewhat bearish for months on current deliveries while emphasizing the improving outlook for future deliveries, I have finally become more positive on deliveries. Boeing has yet to show sustained inventory reductions for the MAX, which means deliveries are exceeding productions, but its Dreamliner delivery stream looks promising.
Last month, I pointed out that if you liked Boeing last year, you'll probably like it even more now as delivery flows improve. Boeing is now getting close to what I like to see and the next step is for stock prices to start delivering to investors. The 4% gain from a 2% market decline since the previous order and delivery report could be the start of an improvement in Boeing stock performance.